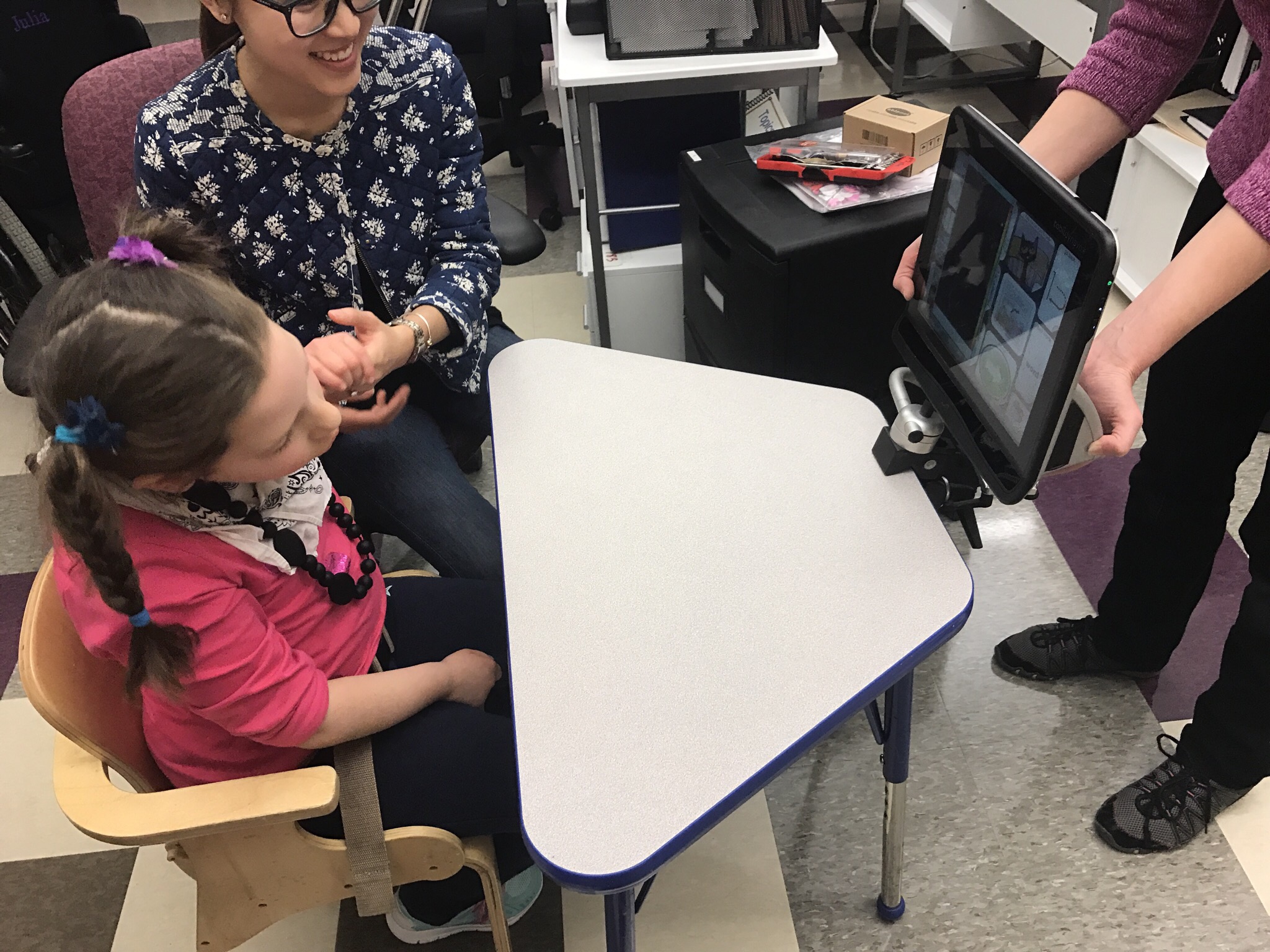 The Need
A student at the South Shore EducationalCollaborative (SSEC) uses a Tobii device thathelps her communicate. When she sits at adesk, her Tobii needs to be mounted near her.Julia's current desk mount is not tall enough tohold the Tobii at an optimal height, and itsheight isn't adjustable. In order to serve Julia'sneeds, an effective mount must effectively holdthe weight and shape of the Tobii, and it shouldallow for height adjustments. Similarly, Julia alsoneeds a screen guard for the device. As is to be expected, she touches the screen frequently. Unfortunately, this has proven problematic since it often results in accidental closures of her communication software. This protective cover must be easy to remove so that those assisting Julia can easily use the touch screen when necessary.
The Project
The team divided the project into two sections. One section is focusing on constructing a custom desk mount for Julia's Tobii, and the other section is pursuing a plexiglass cover for the Tobii's screen. For the mount, the team began by developing two design concepts to prototype. In concert with Julia's aids at school, the team will assess each concept prototype to determine if either is a sufficient, effective, and sustainable solution to Julia's Tobii-mounting problems. For the plexiglass cover, the team began by developing a set of requirements: (1) it should not cover the cameras or the sensors behind the screen, and (2) the cover should be easily removed and attached for the convenience of the people assisting Julia. The design concept features straps, which fix the screen in place, that connect to the backside of the Tobii.
Current Status
The screen guard is currently finished and the team is close to finishing the adjustable stand.