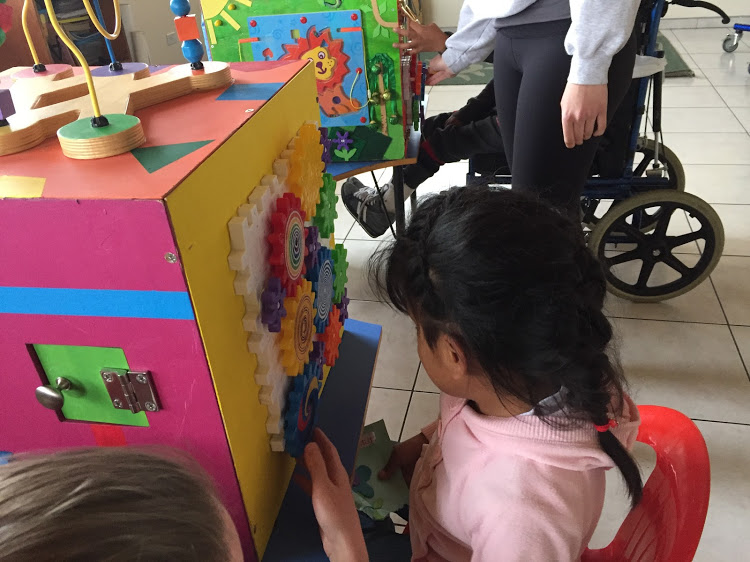 The Need
Children with visual deficits encounter fewer opportunities for sensory stimulation, which necessitates that they rely on alternative sensory input and training to improve their motor abilities. Prior studies have indicated that a Sensory Substitution Device (SSD), designed to stimulate other senses in the absence of vision, yields improvement in sensory integration and motor functioning when deployed as a therapeutic intervention. Clinicians at the For His Children orphanage in Ecuador requested a device that would enhance the diversity of sensory experiences for children at the center. After a previous Enabling Engineering group delivered a prototype in March 2015, the staff in Ecuador requested a second iteration designed to be more durable.
The Project
The second iteration of the Sensory Cube prototype adopted many of the first team's design decisions, keeping to similar sensory stimulation strategies across the various faces of the cube. On one face, however, this year's team integrated electronic components, which the first iteration did not include. With the addition of LEDs for seeing users, a small speaker, and a microcontroller to drive the electronic components, one face of the cube offers novel sensory experiences for the children. By relying on different materials and construction strategies, the second iteration of the Sensory Cube project is more structurally sound—the team expects it to withstand its high energy environment more capably over time.
Current Status
This project is complete and a prototype was delivered to the orphanage in Ecuador in March 2017.