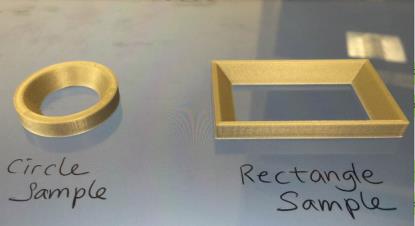 The Need
Children with developmental delays take therapeutic classes that use tablets. When using the tablets, children often have trouble locating and pressing the on-screen buttons. Sometimes they press a different button than they intend to. Teachers at the South Shore Educational Collaborative needed button guides that make it easier for children to identify and select the items on the screen during a lesson. The guides need to be easy for teachers to place and remove, hard for children to remove, and flexible enough to be customized for each software application.
The Project
The team developed a collection of 3D-printed button guards that adhere to a tablet screen. The guards have sloped sides that guide children's fingers toward the center of each button. Microsuction tape on the back of each guard secures it in place and allows teachers to remove and reposition it easily. The specialzed tape is designed to be removed and reapplied many times without losing its ability to adhere. The guards come in variety of sizes and can be positioned to accommodate a range of tablet software packages.
Current Status
The prototypes have been developed and successfully tested by end users at the South Shore Educational Collaborative.